Over the past few months, my Leapgen colleagues, Jim Holincheck, Ryan Malkes and I had the privilege of interviewing L&D leaders and practitioners from 19 organizations across multiple industries.
We asked the audience (mostly from large organizations (median number of employees = 31,000; and most are global household names) a series of questions to 'fact check' industry press and trade show news … we started with:
– Where organizations REALLY are in their digital LEARNING journey

– The rate at which they are adopting L&D practices and enabling tools.
Study Participants by the Numbers:
Is the emergence of digital content and tools really driving a reinvention of how businesses develop their workforces?
YES and NO according to our findings. As the figure below shows, we found that while many of the trends thought to be shaping L&D are underway, the pace at which many are being adopted is slower than what many in the industry have predicted relative to where we would by the end of 2020 — think a Sunday afternoon drive vs. a race.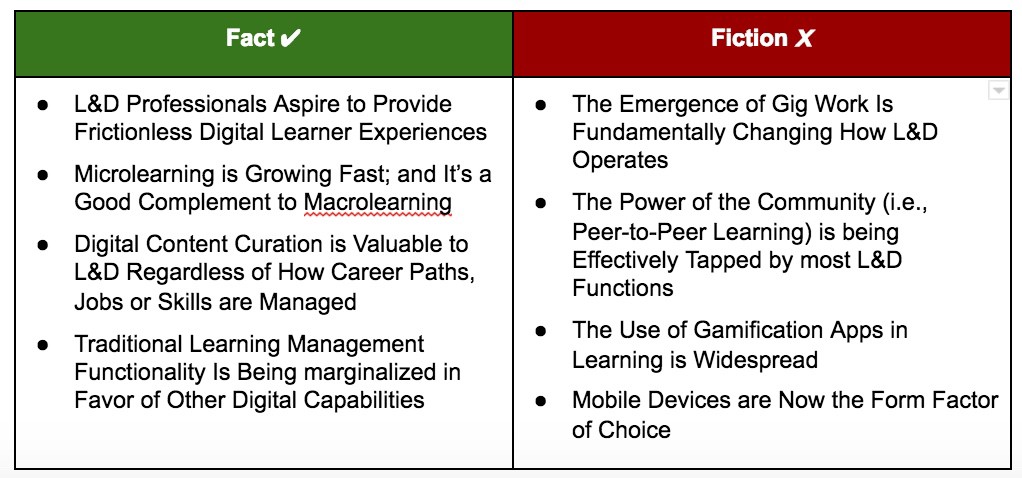 A brief summary of each 'fact' checked follows. You can find a more detailed summary of our findings here. We will publish the full study in early December 2018.
One thing to note as you review these findings…
The pace at which digital learning capabilities are being adopted by large enterprises is driven LESS by the usability of technology and MORE by the mindset and scope of services offered by L&D organizations.
Those who are narrowly focused on supporting the 10% of learning the workforce does through formal instruction (i.e., courses) have been relatively slow adopters of digital learning enablers while those whose focus includes supporting the other 90% of how we learn — [tribal] learning from others and learning on the job — are generally faster adopters.
FACT: L&D PROFESSIONALS ASPIRE TO PROVIDE FRICTIONLESS DIGITAL LEARNER EXPERIENCES.
A frictionless learner experience means delivering the right product to the right people at the right moment through the right channel. As my colleague and friend Jason Averbook says in his second book, digital technologies are the 'intravenous' through which learning experiences are increasingly being delivered. By and large, the participants with whom we spoke try to put the learner at the center of the experience, meaning they do their best to deliver relevant content and programs as close to the point of need as possible.
FACT: MICROLEARNING IS GROWING FAST; AND IT'S A GOOD COMPLEMENT TO MACROLEARNING.
Microlearning is a way of delivering content in small, very specific bursts — generally 10 minutes or fewer. "Microlearning in the flow" is how people satisfy their curiosity, obtain procedural tips and/or reinforce concepts with which they are already familiar when they do not have time to sit and dig into macro learning (e.g., attend a course).
Several participants have recently launched concerted microlearning efforts — whether through centralized, corporate L&D function or a departmental one (e.g., as sales enablement group that sits in sales or product management). Microlearning is being delivered through dedicated platforms, third-party content providers and as extensions of learning management systems.
FACT: DIGITAL CONTENT CURATION IS VALUABLE TO L&D REGARDLESS OF HOW CAREER PATHS, JOBS OR SKILLS ARE MANAGED.
As one participant put it, 'modern workers will bypass L&D and go to Google/YouTube because it is easier to find relevant content.' Digital learning content curation uses data analysis to identify the content required for particular jobs or skills and suggest to individuals the resources (e.g., videos, articles, blended learning program descriptions) that make sense for them, given characteristics associated with their profile (e.g., experience, role, topical interests).
Most participating organizations have plans in the works to adopt digital content curation practices and technologies with a focus on microlearning. Some are targeting training at skills; some are targeting certain job profiles; some are building learning paths that are tied to career plans/paths.
FACT: TRADITIONAL LEARNING MANAGEMENT FUNCTIONALITY IS BEING MARGINALIZED IN FAVOR OF OTHER DIGITAL CAPABILITIES.
LMS's have largely been set up to manage the 10% in the 70–20–10 model of learning & development — formal courses and instruction. So it should come as no surprise they are NOT seen as natural experience layers by learners. Rather they are a system of record in a digital learning architecture that is evolving in ways to support the remaining 90% — 70% (learning by doing) + 20% (learning from others — i.e., tribal learning) — by delivering knowledge in the flow of work (i.e., removing friction). The figure below represents a rudimentary overview of a digital learning architecture.
For the most part, participants do not regard their learning management systems as an especially valuable — or in some cases even useful — part of the learner experience. Most participants characterize them as difficult to navigate, and a barrier to more democratized content curation. Many providers have recognized this and have developed and/or acquired content curation and/or 'social learning' capabilities; these are the areas where they are spending the majority of their R&D dollars.
Digital Learning Architecture:
FICTION: THE EMERGENCE OF GIG WORK IS FUNDAMENTALLY CHANGING HOW L&D OPERATES.
As one L&D leader in our study put it, 'we're skating toward the gig economy puck.' In discussing the gig economy with participants, our focus was on the rise of project work in their organization driving the need for temporary roles that would be assigned to employees as experiential learning & development opportunities. We delved into what current practices and plans are in place to upskill people to take on these assignments and/or using gigs themselves as experiential learning exercises for their employees who approach them as career development opportunities.
Most of the participants with whom we spoke work in L&D functions that have not embraced internal gig work as part of their program mix. The experiential learning opportunities offered by gig work are simply not something most L&D functions have chosen to manage in part or in whole. However, there were some telling examples of L&D's potential role in enabling gig work by in the future for those organizations who choose to use them as experiential L&D opportunities. The detailed summary includes examples.
FICTION: THE POWER OF THE COMMUNITY (I.E., PEER-TO-PEER LEARNING) IS BEING EFFECTIVELY TAPPED BY MOST L&D FUNCTIONS.
Professionals learn from one another every day in the workplace. This stands to reason. Colleagues understand the issues one another face on a day-to-day basis better than any consultant or trainer could. So in addition to technical expertise, they are able to offer insights based on shared context. That connection makes people more likely to learn from one another. Peer-to-peer learning ranges from formal (e.g., mentoring programs) to semi-formal (e.g., lunch & learns) to informal (e.g., content sharing).
In recent years, such learning has been bolstered by user-generated content and social networking — at work, at home, and at school.
Based on our discussions with participants, many L&D teams have not effectively partnered with the very people from whom their workforces are likely to learn the most — peers who are subject matter experts. Some do not see the facilitation or management of learning communities (a.k.a. communities of interest) as part of their charter. That said, several study participants pointed to blending peer-to-peer learning into formal learning programs (e.g., having learners instruct one another as part of breakout sessions, encouraging learners to share how they're applying their knowledge via a social group following an event).
FICTION: THE USE OF GAMIFICATION APPS IN LEARNING IS WIDESPREAD.
Gamification is the application of typical elements of game playing (e.g., point scoring, competition with others, rules of play) to engage people in learning activities. There are different contexts for gamification in learning — from in-course gamification to leaderboards offered on platforms developed by learning management providers, spaced learning and content providers to more enterprise-wide reward system applications like badging that are applied to learning in addition to other desired behaviors and activities (e.g., achieving sales goals, exhibiting a company core value on the job).
All participants with whom we spoke see gamification as being effective in certain situations for some populations that like a little friendly competition (e.g., sales teams may like it, but R&D professionals may not). That said, most study participants have not widely adopted gamification outside in-course instructional design; and most do not plan to invest much in gamification efforts over the next couple of years.
FICTION: MOBILE DEVICES ARE NOW THE FORM FACTOR OF CHOICE.
A frictionless learner experience is rooted in the people, moment, product and channel. The challenge that many organizations are now facing is now that they have identified the right channel for many as mobile, delivering the same product (e.g., a page-turner course) does not make for an effective learning experience. Many of these products (i.e., learning objects) were not created to be consumed and interacted with on a 5.5'' screen with no mouse.
Nearly half the organizations in the study have relationships with content providers that offer mobile-ready content. However, the nature of content and learning preferences are inhibitors to adoption. So too is the maturity of mobile device usage regionally for those with multinational workforces (e.g., more mature in Asia/Pacific than in some EU nations). Regardless of the pitfalls, roadblocks and legal obstacles (e.g., compensatory time for hourly workers in a retail or plant setting), all participants recognize the need for a frictionless mobile experience and are examining potential solutions to content retrofitting, user adoption and user experience.
BEFORE YOU TAKE THE LEAP
We live in a world that requires everyone in an organizational L&D function to have a "digital first" mindset. This does not mean throwing a bunch of technology against a wall and hoping it sticks [although some experimentation should be encouraged]. For organizations that are willing through a growth mindset to truly reimagine L&D experiences and processes leveraging design thinking and digital capabilities covered through this study to truly put the worker at the center of things, Leapgen recommends the following:
Develop a vision and scope. Articulate what the L&D organization is in the digital world, where it wants to go over the next 2 years, the scope of what it manages on behalf of the enterprise (e.g., formal instruction, experiential learning, tribal learning), what the governance structure looks like (e.g., federated vs. centralized, regional vs. functional), what its guiding principles are for delivering a frictionless experience and what its measures of success are. The vision will be the compass that guides your decisions going forward.
Build a strategy. Determine what actions and programs will get your L&D organization (or L&D organizations if you work for a company that wishes to combine efforts of several L&D groups to drive both more seamless experiences and operational efficiencies) to realize that vision. That strategy should be inclusive of mindset, people (e.g., resources/skills needed), process/experience reimagination, enabling technology and change management (i.e., how are we going to get the workforce addicted to these digital resources?!).
Collaborate with other enterprise functions driving the digital workforce experience. L&D groups that work in isolation from other functions such as enterprise IT and HR will very likely fall short on any promise to personalize learning experiences at scale
Don't simply blame the technology. If you haven't defined your requirements or you haven't revisited them over the last few years, you are not in a position to say whether or not an LMS or any other learning technology should be replaced. A common mistake organizations make is deciding to replace a system when the governance and way of doing business have simply changed around the system and/or it was not configured with smart design in mind. Before you blame the technology for a clunky experience or not delivering the report you need, ensure your requirements are well defined and then determine whether or not they can be met.
Showcase the value and continually improve. Go-live is just the beginning! The benefits of digital learning may be both emotional (e.g., make employees feel the organization is investing in their development) and financial (e.g., we're making people productive more quickly, we've rationalized the number of content providers with which we work). Talk to employees and other key stakeholders about how programs are working. Share early successes relative to the measures laid out in your vision and strategy. On the other side of that same coin, fix the things that are not working as expected as quickly as possible; modern digital technology has been made configurable to the point it should not take months or massive technical interventions to make things happen.
______________________________________________________________
ABOUT THE AUTHOR
As Chief Service Officer, Mike is responsible for Leapgen's Service Delivery organization, providing leadership by managing talent, methodology, growth and profitability. He also works with our Sales, Marketing and Delivery Teams to manage relationships with clients and ensure their success. Mike has nearly 20 years of enterprise consulting experience in both HCM and CRM a strong track record of partnering with customers and building high-growth teams.
He spent over a decade at Appirio, most recently as a Partner collaborating with clients to solve problems with Appirio services. Mike was also the Practice Leader of Appirio's Cornerstone OnDemand (CSOD) Practice and started his career as an Industry Analyst with IDC, a global market intelligence firm where he consulted with solutions providers and advisd equity firms conducting due diligence in the HCM market.
ABOUT LEAPGEN
Leapgen is a global digital transformation company shaping the future of work. Highly respected as a visionary partner to organizations looking to design and deliver a digital workforce experience that will produce valued outcomes to the business, Leapgen helps enterprise leaders rethink how to better design and deliver workforce services and architect HR technology solutions that meet the expectations of workers and the needs of the business. Contact us to get started.
---